---
shimizu maja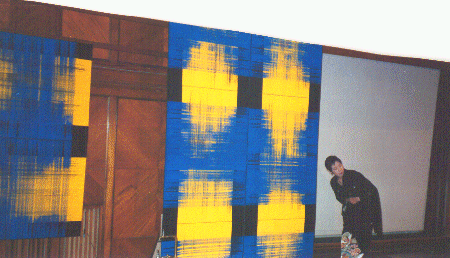 shimizu maja performed a danced dialog on tuesday, aug 4th 1998.
this dance is made visible - in addition to the paintings of angelik riemer - on to the projection wall of the robert koch auditorium of institut of mikrobiology and hygiene of charité berlin during the openig of the CRISS CROSS / KREUZUNGEN exibition on FRIDAY, sept 25th 1998.
shimizu maja was born 1976 in hokkaido, japan.
she studied mordern dance under s. ishiguro at ochanomizu university, tokyo, and butoh under semimaru-san (sankai juku).
1992 she finished the masterclass of ochanomizu university in tokyo, after that she continued studying during an eight month' travel through USA and europe.

since 1993 shimizu maja is is choreographing and performing experimental dance as she is working on free improvisations with musicians, painters and sculpturers in JAPAN, KOREA and AUSTRIA.

1996 - studies of solo choreography under susanne linke during the international dance weeks in vienna, AUSTRIA
1997 - lectures at the sapporo ohtani junior college in JAPAN
1998, august 4th - dance improvisation at this project in berlin, GERMANY
1999 may - solo dancing in a special programme at the 2nd theatre olympics in shizuoka, JAPAN.